Roubaix Vineyards 2018 Cabernet Sauvignon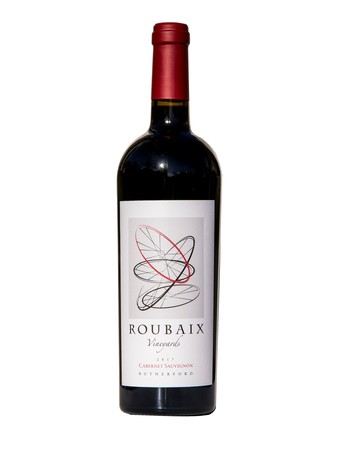 Roubaix Vineyards 2018 Vintage brings aromas of blackberry and wild raspberry complimented by shades of dark chocolate, roasted coffee, anise, forest floor and tobacco leaf. The palate has refined tannins with rich flavors of blackberry and dark cherry. Although oak is present, it integrates beautifully with hints of ground clove, white truffle and dark chocolate.

While 2018 was a long growing season, with mild temperatures from spring through harvest in October, it allowed the clusters time to develop just the perfect flavors and aromas.
The wine was aged for 26 months in French oak barrels, Tarransud and Atelier, and was bottled in January 2021. Seventy-nine cases were produced. The 2018 Roubaix Cabernet Sauvignon highlights the quality of the 2018 vintage with firm structure and balanced acidity.
Limited Availability // ONLY 75 CASES MADE
Wine Specs
Vineyard Designation
Roubaix Vinyards
Harvest Date
November 5, 2018
Aging
Within 5 years of bottling
Wine Profile
Tasting Notes
Best tasted with friends and family. Follow the 5-S framework. First, See the color. Hold the wine glass at an angle in order to see the colors. Roubaix appears as a deep red color. Next, Swirl it around. Notice the think viscous streaks (called legs or tears)down the inside of the glass when swirled. Now it's time to Sniff the wine. The "nose" of a wine – its bouquet or aroma – is the major determinate of perceived flavor in the mouth. Now it's time to take a Sip. Hold the wine in your mouth for 3-5 seconds letting it coat the surface. Once inside the mouth, the aromatics are further liberated by exposure to body heat, and transferred retronasally to the olfactory receptor site. It is here that the complex taste of Roubaix can be experienced. Lastly, be sure to Savor the experience.
Winemaker Notes
2018 was a long growing season with mild temperatures from spring through harvest. While the clusters slowly came to ripeness towards the end of October, time allowed for the development of generous flavors and aromas. The wine aged Tarransud and Atelier French oak barrels for 26 months before bottling in January 2021. Aromas of Black berry and wild raspberry are complemented by nuances of dark chocolate, roasted coffee, forest floor, anise, and tobacco leaf. The palate has refined tannins with flavors of blackberry and dark cherry. Oak is present but integrates well with flavors of ground clove, white truffle, and dark chocolate. The 2018 Roubaix Cabernet Sauvignon highlights the quality of the 2018 vintage, with a firm structure and balanced acidity.
Food Pairing Notes
A tasty steak, beef short ribs + other braised beef dishes, an artisanal burger, roasted or grilled lamb, cheddar, gouda, and other cheeses.
Product Reviews
Jarrod Wolf
(Jan 14, 2022 at 1:04 PM)
Amazing!